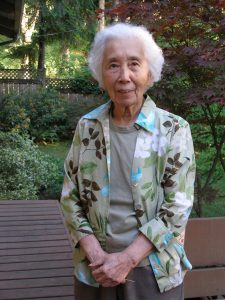 Kiahsuang Shen Lo, of Eugene, Oregon and Missoula, Montana, passed away in Missoula on February 21, 2019 – two months short of her 100th birthday. Kiahsuang was a beloved mother, auntie, grandmother, and great-grandmother, as well as a matriarch to a large number of Chinese and Chinese-American students and immigrants from the 1940s to the present. Her daughters and extended family were with her during her final days.
Born in Shanghai, China in 1919, Kiahsuang moved at a young age to Hangzhou, where she spent most of her youth as the fifth child of nine siblings. Her father, a doctor trained in western medicine, valued traditional Chinese culture.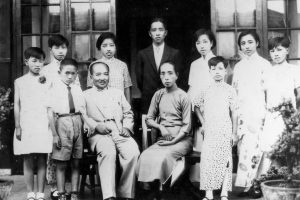 He made sure that his children and nephews and nieces sat at the kitchen table almost every day to practice Chinese calligraphy, paying them one copper penny for exceptional work. This diligent practice set the stage for Kiahsuang's lifelong love of Chinese brush painting.
Political turmoil in China led Kiahsuang to travel to Kunming in western China, where she met her husband, Hsu Lo, a student at Tsing Hua University. Kiahsuang worked in the post office and also sang in the youth choir. Hsu was part of a wave of the brightest youth of China, who were offered the opportunity to study in the U.S. Hsu and several of his fellow students managed to get to the America during wartime in 1944. They then used the black market to finance their wives to fly in a cargo plane "over the hump" (the Himalayas) to India, where Kiahsuang, her sister Jiaching, and several friends spent three months checking the dockyards daily for a neutral ship that could take to take them to the U.S. The women finally traveled through the Suez Canal to New York in 1945 on the Gripsholm, a Swedish repatriation ship.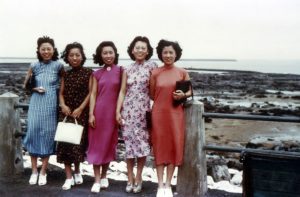 Kiahsuang and Hsu Lo both attended the University of Michigan, where Kiahsuang studied physics and Hsu received his PhD. Hsu went on to become a Professor of Aeronautical Engineering at Purdue University, listing among his most famous students the astronaut Neil Armstrong. The couple embraced life in America and raised their two daughters, Ginnie and Beth, in West Lafayette, Indiana. Because of the Communist takeover of China in 1949, Kiahsuang and Hsu never saw their parents again.
After 1970, China slowly began to open its doors to the Western world, and Kiahsuang was able to return to China to visit with her large extended family. In subsequent years she made many trips to China, fostering close relationships between her American-born extended family and her six living siblings and dozens of other relatives in China.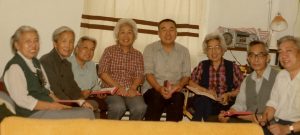 In recent decades her daughter Ginnie arranged trips to the U.S. for groups of Chinese relatives for tourism or study and to spend precious time with Kiahsuang.
In America, Kiahsuang and Hsu helped create a network of Chinese families and promoted Chinese culture and history, through the establishment of the Midwest Chinese Student and Alumni Service and Chinese Family Camp. They also loved to gather socially around the game of mahjong, hosting warm extended-family events that involved food and laughter. Kiahsuang is still revered as one of the most beloved "aunties" to numerous Chinese-American families.
Kiahsuang took a few classes in Chinese painting but was mostly self taught. After Hsu retired from Purdue University, they followed their daughter Ginnie to Eugene. Hsu passed away in 1991. In Oregon Kiahsuang took up her painting in earnest. She painted thousands of paintings and named her painting studio "Yi Qin Tang" or "Remembering My Parents Studio." She taught Chinese painting to her grandchildren, Roo and Maika, who lived next door to her.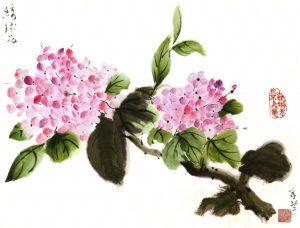 A self-described Grandma Moses, Kiahsuang began showing her work after reaching 75 years of age, with exhibitions of her work at galleries in Eugene and Missoula. She ran a small business selling her notecards at local bookstores and craft fairs. One of her favorite paintings was chosen for the label of a Montana cherry dessert wine.
Kiahsuang loved music and had a beautiful soprano singing voice. Well into her nineties, she could often be found in the pubs and breweries of Missoula listening to her daughter Beth, son-in-law David, or grandson Tai, play music.
Kiahsuang Lo will be remembered for her many accomplishments, but even more for her kindness, her energy for life, and love of family. She was beloved for her grace, humor, open-mindedness, and understanding. She was interested in and supportive of everyone she knew. Her life was a model life.
Kiahsuang is survived by her daughters Ginnie Lo and Beth Lo; their husbands Paul Nicholson and David Horgan; grandchildren Roo Nicholson and his wife Sutin, Maika Nicholson, and Tai Horgan; great-grandchildren Kepler Nicholson and Li Gracie Nicholson; nieces Vivian Yang and Virginia Yang; nephew Allen Yang; 'honorary daughter' Jeannie Shu, and many loving family members in the U.S. and in China.