Weichien Chow, or Grandpa Weichien as he was called at Camp, attended Chinese Family Camp since the middle 1960s and continuously for the past 15 years. He loved to play bridge and see his children and grandchildren, and he always had something to teach through his drawings or classes. He was an engineer first and foremost, but also an artist and designer, and he could do calligraphy or draw maps or whatever was needed for Camp activities. He was a gentle soul and very private, but was always willing to help.
Weichien and Mary Chow were part of a Midwest community of Chinese families in the 1960s that thought Family Camp might be a good activity for their growing children. Over the years they grew to love the idea of Camp and the people. Even after their four boys had grown and left home, Weichien and Mary continued to attend Camp, following it from Oakwood to Shawnee to Mohican. Weichien continued to attend Camp with family members through 2010 at Amish Acres.
About His Life
Dr. Weichien Chow passed away on December 7, 2010 from a ruptured thoracic aortic aneurysm. He had recently celebrated his 88th birthday with his 4 sons and family members and lived a peaceful life in his apartment in Champaign until his death.
Dr. Chow was born on November 11, 1922, the second child in a family of 7 children, in Hong Kong, China. The family moved to Shanghai in 1927 and there he lived through his college and early work years.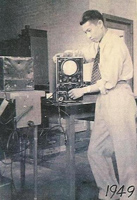 He was an excellent student and always ranked at the top of his class even though he had a hearing impairment that prevented him from hearing lectures clearly. He explained that he would read the textbook and review notes to learn the material. After graduating in engineering, he worked at several jobs including the Maritime Service.
In 1948, a chance encounter with an American military officer, for whom he did some technical translation, led to a recommendation to attend school in the US. He got on a boat with hundreds of other aspiring students and sailed across the Pacific Ocean to a post-war America to do advanced study in engineering. He recalled that since students in steerage were limited to take only one suitcase, some of them would wear 4 pairs of pants. When he got to Angel Island, the immigration officer, who was French, told him his name would be spelled Chien which means dog in French.
He attended the University of Wisconsin majoring in Mechanical Engineering and received his Ph.D in 1952. Along the way, the United States decided to detain foreign students studying in technical fields so instead of returning to China, he met Mary Fang, the oldest child of 7 who was also working for her advanced degree in the US. They would often study together, and well, one thing led to another and they got married.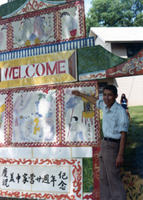 Weichien and Mary became US citizens and raised 4 boys in the Midwest, moving from Wisconsin to Michigan and eventually to Illinois. Weichien worked in the automotive industry and then did engineering research at corporations such as Sparton Automotive, ITT Kellogg, and Amphenol. He did engineering work, management, and research, and had 13 patents to his name. With a surgically repaired inner ear, Dr. Chow was able to enjoy many productive years with full hearing ability.
After his 4 sons were grown, he made the leap to academia in 1978 and taught in the General Engineering Department at the University of Illinois. He very much enjoyed teaching and being with students, and he received the department's Excellence in Undergraduate Teaching award regularly until he retired in 1991.
In 1992, Mary was diagnosed with colon cancer. With treatment and Weichien's devotion, she was able to live another 6 years, and in that time they were able to experience together the birth of 4 grandchildren and other significant family events. Mary passed away in 1998.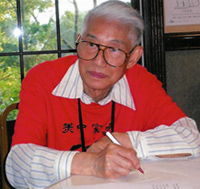 Weichien remained active and creative. His latest practical invention was a face shield for cold wind protection made from office sheet protectors. He continued to do drawing and calligraphy for community and cultural organizations, including the Chinese American Association of Central Illinois and Midwest Chinese Family Camp. He was a regular member of the Hayes Center bridge club and attended games faithfully. He was very private and shunned ceremony, but he touched the lives of many people with his good heart.
He is survived by brother Weining in Germany; sisters Maggie and Mei in Hong Kong; his son Mark and wife Amy in Los Gatos, California; son Stanley and wife Su in White Plains, New York; son Paul and wife Hui-Li in Plainfield, Illinois; son Carl and wife JoAnn in Fremont, California; and grandchildren Randy, Kevin, Eric, and Sarah.
Dr. Chow has expressed the wish that, in lieu of flowers, you consider donating to a charity such as the American Cancer Society or the American Heart Association.