Dorothy Yang was a co-founder of Chinese Family Camp. For the past 50 years, she was an active member and supporter of Camp and all its ideals.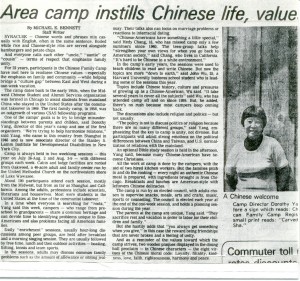 In 2002, a small group of us were discussing the downward trend in Camp attendance and weighing the thought of ending Camp as we know it. Aunty Dorothy (as we called her) was there and gave us a pep talk. She told us how, in the 1950s, there were a group of young parents that had an idea for Camp. They didn't know how it would turn out and there was great doubt about whether it could be a success. But it did turn out and influenced two generations of Chinese American children. It was for them that they continued to work hard at making Camp an ongoing institution.
At that moment, the group of us that heard her words sprang into action with renewed confidence and conviction. We devised a plan to grow Camp attendance to 100 people per year and organized a marketing and outreach campaign that reached out to old campers that were now grown and had their own children, and also to brand new Campers that would add new life and diversity to the organization.
The efforts started working and today Camp is as vital as ever. Children still count the days til they can come to Camp and cry when they have to leave their friends and their Oakwood Park.
When she was too ill to attend Camp in 2007, she recorded some thoughts for us to share:
At the 2007 Camp session, we recorded a message for Dorothy as thanks for all her thoughts about Camp: