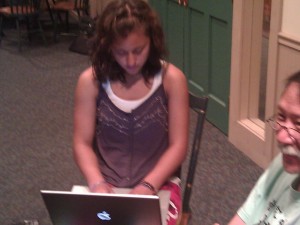 I've had such a great time at camp this year! I always have a great time, but as I get older, the time spent together seems to have so much more of an impact on my life. I don't think sir John could have put it any better. It's fun to see how much and how little the kids have changed each year as well as everyone else. I can now leave tomorrow with a smile on my face, a wrist full of silly bands, and a head full of fun-filled memories. Speaking of silly bands, I have the coolest ones. I love my purple sneaker, green elephant, and tie-dye peace hand! WOOP!
Here's a little re-cap of how my last day went…
Madie, Diana, and I stayed up till about 4 o'clock in the boys' room. I actually fell asleep, but was soon woken up by own snoring. hehe:P Afterwords, we went to our rooms and slept soundly for a short 4 or 5 hours. How typical. We woke up and found that Madie and Diana had already been working vigorously on filling up water balloons to be sure that field day would go perfectly. Which it did, of course. After that, we all showered up and had the wonderful lingering smell of off-brand whipped cream stained in our noses and pores. Yesss. We ate a quick lunch then took a cat nap to prepare us for the best ice cream I've ever had in my life hands down….ROCKET SCIENCE!! "It's out of this world!" Pina Colada, Triple Berry, Mint Balooza, White Chocolate Macadamia Nut, White Chocolate Raspberry, Martian Malt, Keylime, Death by Chocolate all made with liquid nitrogen!!!! "Ohhh yeahhh," says the Kool-aid Man, "Ohhh yeahhh." Last, but not least, we scrambled around trying to come-up with last-minute ideas for our skit just hours before the festival. We are so dang typical! But what a success! Again! Boy, what-a-day.
I love Chinese Family Camp! Yes, yes I do! (in the words of Bing)
Peace&love Family Campers! Hope you all have a safe trip home and live in total happiness till we meet again for another great week!
~L-Smack the rap mastaaa