Before there was Chinese Family Camp, there was the Chinese Children's Study Camp: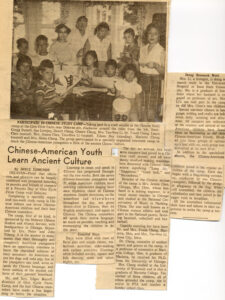 *Interesting read about the Chinese Children's Study Camp- Article from October 1958
Beginning in 1953, a group of 8 Chinese families (Chen, Chu, Liang, Liao, Liu, Lo, Tan, Yang) got together annually for family vacation at the Glen Eyrie Farm by Lake Delavan, Wisconsin. In the Summer of 1958, with the help of Reverend Ellen Studley and the Buzzell family, the 8 Chinese families created the Chinese Children's Study Camp at the Glen Eyrie Farm Camp. The goal of the study camp was to expose the Chinese children born in America to the Chinese culture, history, and language, while they experienced American camp activities: Picking strawberries, taking care of farm animals, playing on the waterfront, and square dancing. There were only 7 children who attended, because the early Chinese immigrant parents didn't feel comfortable sending their children away to Summer Camp alone.
Therefore the next year,  they got together to create Chinese Family Camp, where parents and children could attend camp together. The first family camp was held in the Summer of 1959 at the Oakwood Park campground by the shores of Lake Wawasee in Indiana. There were a total of 11 families, including those who came full week and partial week. This was the beginning of a great, great camp, which became a safe space for children, teens, and adults to embrace their intercultural identities and appreciate their Chinese heritage.
Chinese Family Camp was held at Oakwood Park, Indiana from 1959-1990. Because of the immense amount of cooking that the parents had to do at Oakwood Park, campers wanted to look for a new campground facility that could ease the parents' cooking responsibilities and provide more on site activities for the children. Therefore from 1991-2001, Camp moved around various locations in the Midwest outside of Indiana, however the ideal camp site was still not found. Because of a decrease in attendance, Uncle Allen Yang, Auntie Vevan Yang, and friends brought Camp back to Indiana in 2002. Not only did they return to Oakwood Park, but they invited back many adult campers who attended camp as preteens and teens to return for reunion. Many of them remember the good old days and continue to return to camp year after year as adults. This is how our current Camp Director Lawrence Wang returned to Camp. In 2009, there was a decision to move Camp to Amish Acres in Nappanee, IN, which lasted until 2019. Because of Covid-19, Camp went virtual in 2020-2021. Since Amish Acres was planning closure, Camp relocated to Cedar Lake in 2022.