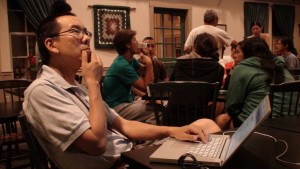 I arrived here last night and jumped into the deep end of the pool (figuratively) here at Amish Acres. The school of fish of cute little kids, the sea of familiar faces – friends I've known for decades, and even some snacks!
(Editorial note: Mark wants me to capture the milieu of Chinese Family Camp – I didn't know we were allowed to have a milieu…hmmmm)
Anyway, today Frank, Jim, and David Chao and I went to play golf. A rather uninspired front 9 was brought to life on the back nine when I challenged the Chao boys to a small wager, pitting the 3 of them against me. $1 per hole. I lost the 10th, 11th, tied the 12th, lost the 13th, and on and on it went. So, I lost $15, altho Frank paid for the round and my club rental…Elizabeth says "Money is a great motivator" how true…
I can't keep track of who I've connected with over the last 24 hours vs. last year or the year before. Camp has turned into a multi-year blur of Toviska, skit practice, the camp IT department, cute kids, thousands of photo's (thanks Frank), food, tai chi, sleep deprivation, Trivial Pursuit, trying to remember everyone's name, and continually thinking that I'm still one of the kids instead of one of the grown ups. How can it be that be? Me? an Adult?
I remember when we created a Family Camp Newsletter using wrapping paper on the wall. I remember bringing my tuba to camp and jamming with Eugene Yang.
I remember sleeping above the kitchen in the old lodge.
I remember Hubie, our stuffed lion mascot.
I remember "Someday, my prints will come!" as the final and only punchline of a rather long skit starring Carole Wong as the princess, and Dean Li as the prints/prince.
I remember square dancing practice for the parents who, besides not having any idea what an "Allemande Left" was, also did not have a Western sense of rhythm, movement, dance, or square dance. Why did we spend so much time on that? It is the equivalent of having a group of Lithuanian grandparents hanging out in Tianjin while their kids tried to teach them basic Peking opera arias.
How many skits did we write over the years? How many times and years will xi-fan and pi-dan continue to be somehow included as a skit joke? Wish we'd kept them…
and now I'm REALLY tired, so I will end this before you start seeing random letterlskowio saoiasjlklsssssssssssssssssssssssssss