17 Days, Campers!! How did this happen?
Do you have your RED Tshirts/Tank Tops to make your camp Tshirt? (Answer here: No)
Are you getting excited? (Answer here: Yes)
Have you dug up those Happy Meal toys to add to the Field Day trinkets? (Answer here: Not yet)
Have you been singing the Camp Grace at meals? (Staring this weekend – really.)
This is our 50th anniversary! We have a wonderful number of campers coming. Let's make sure we can all sing the grace. To get us started, here is Grandfather Shen leading us:
And here are the words: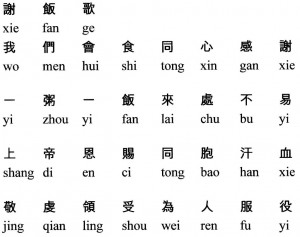 And here is what the grace means:
"With grateful hearts we gather,
Through hardship comes our food and drink,
'Tis grace of God and sweat of men.
We receive with thanks and will serve mankind."
Watch for more blogs! Watch for more news! Anyone want to blog, let me know at knitterlynn@sbcglobal . net (remove spaces).