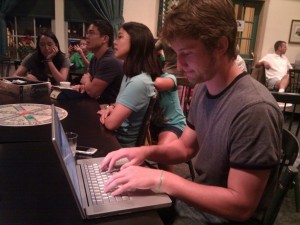 Every year we attend festival night and I can't help but to feel some deep emotional connection to camp. I always wonder.. What am I feeling? Why is this such a rare state to come upon in our everyday whirling lives? What have we done to create this environment. The wondering stops every time a child is lifted onto a teen's shoulder, when a grandparent relives the memories of the origins of camp, when aunties and uncles organize camp year and year again, never ceasing to amaze us.
I think what we have is a home for everyone. Our community is nothing like I have ever encountered in my young life. Our community is nothing like anything that I could have envisioned before coming to camp. I have read of many communities that are very tight knit. However each one has a foundational flaw. Some are based around strict dogmas, or necessitate exclusion. Some are corrupt and some are just evil. The ones that do not fall under these categories are riddled with self-interest. These communities are not families.
We are separate from these communities because we have poured in genuine love and work into our camp. We are separate because of the work that our grandparents have done to make this community possible. We share a common thread, but necessitate no exclusion. We believe in love but we do not have strict dogmas. We want the best for ourselves, but we'll never sacrifice our fellow camper's well being for our own. How this came to be, I can't claim to know. But I know it's some thing to cling to, it's something to invest in.We create a safe space for ourselves to give to each other and give love to each other. For that gift, I am grateful to everyone.
I'll end this with a few words about generations. An essential part of family camp is our generational diversity. Our Grandparents and our Children are the foundation of our camp. And our adults do all the hard work during camp. And our teens are somewhere in the middle. The preteens have such an important function because they force our teens not to be children. Preteens look up to the teens and therefore teens have real responsibility from a young age. But the teens are also teenagers and are somewhat patrolled by the parents, forcing them into their place in the middle. Our Grandparents preserve our culture and pass on traditions. They are the placeholders of the foundation of camp. Without their knowledge and effort, we would never be blessed with such an amazing space. And I don't even know what to say about the adults. They do all the work, take care of the kids, make sure everything runs smoothly, show us how to act as family and always bring the love. This structure is amazing and I don't know how it was set up or how it continues to flow. But I know that I have never seen a group behave like a true community as we do. And for this, I thank each of us.
I apologize for the length of this apparent essay. But sometimes words just keep flying out when you love something so much.
– John K.