Uncle Greg, Uncle Nelson, and Auntie Elysa quickly review the past few days:
Tuesday evening was spent scavenging Amish Acres for peacocks, old Camp T-shirts, and pictures of the Auntie of the Day, as well as making up dances to the Camp song as a part of a fun and challenging scavenger hunt. The winning team had a suspiciously off-the-charts high score, and got to be first in line for a special treat.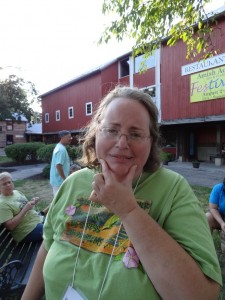 Auntie Karen was Auntie of the Day on Tuesday. Here she is captured making a "sad face" for the scavenger hunt. She might make me take this down… shhh… don't tell her it's here 😉
Following the scavenger hunt, Camp Director Uncle Lawrence landed the coup of Camp by getting the daughter and granddaughters of the founder of Amish Acres to open the ice cream parlor for us for our evening snack. The winners of the scavenger hunt got first dibs on the $2 malts, shakes, floats, and ice cream (two scoops!). We were so well-behaved that they invited us back next year 🙂 When Uncle Lawrence came out of the bingqilin parlor, some of us surprised him with a can-can dance to 'For He's a Jolly Good Fellow' to thank him for making that happen. Uncle Lawrence responded with an open jawed 'huh?'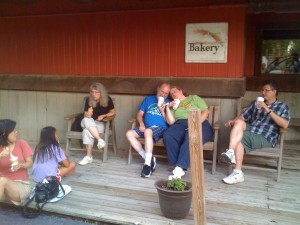 Aww… nothing like friends, family, and ice cream on a summer evening.
Yesterday (Wednesday) was truly ideal. The weather cleared up and was beautiful, and we went to Ideal Beach. We raced down the water slides and managed to have loads of fun in the lake even though the lifeguards weren't too happy with some of our, uh, water etiquette.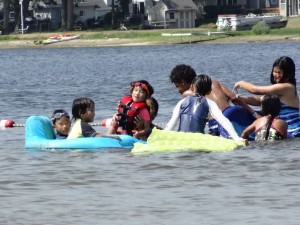 We spent yesterday evening under the spell of Kevin the magician, who brought up volunteers, threatened to cut off Uncle Lawrence's hand, and conjured up an adorably fluffy rabbit named Tricksy.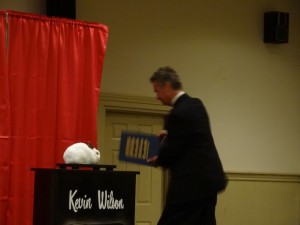 We got to pet Tricksy in small group sessions after the main show.
Today we bao'ed nearly 600 jiaozi and Uncle Joe took them home for some good ol' Indiana home-style cookin'. In the evening we watched Kung-Fu Panda 2 (for the kids) and Mao's Last Dancer (for the adults, some of whom cried). While we ate our jiaozi during midnight snack time, some of us talked with Ginnie and Bethy Lo through a Google Hangout video chat about their new book Auntie Yang's Great Soybean Picnic. If you missed it, you can watch the recording below (and watch us persevere through the Amish Acres internet connection).
Join us tomorrow for more hanging out by following this link! The plan is to play Trivial Pursuit with campers from all over the country!
It's well past midnight and we're still blogging, and adult Chinese yo-yo training only recently packed up. Hope we're all awake and ready for Kingkalympics tomorrow!